CV Boots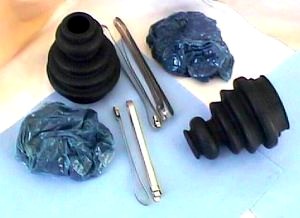 Rear axle CV Boot replacement kit. This kit includes 2 new replacement CV boots, 2 small and 2 large retainer bands and 2 packs of high pressure CV joint repacking grease. This is everything required to repack the CV joints on each drive axle on the DeLorean.
Cost per axle kit is $45.00, which includes shipping*.
Please note - 1 CV Boot kit does 1 axle. To do the complete car you will need to order 2 kits.

Please contact Marty Maier - wingd2@aol.com - for information.
*Shipping to the continental US. Shipping to other locations will have an additional charge.
© 1999 - Mid-State DeLorean Club