K&N Air Filter Element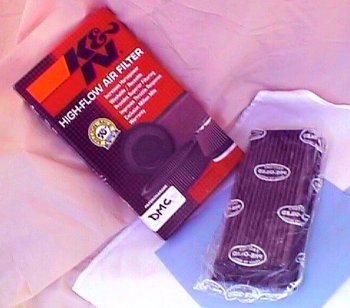 This is a genuine K&N Hi-Performance Air Filter unit with Custom SS Brackets to fit the stock DeLorean air filter housing. This K&N Hi-Flow Air Filter element is re-usable by just cleaning and re-oiling using a standard K&N Recharger kit. It is guaranteed by the manufacturer for the life of the car. This kit includes a custom set of stainless steel brackets specially designed for use with the stock DeLorean air filter housing. Actual dyno testing of this setup on a Delorean showed a 3HP gain over a stock air filter.
This kit was developed with the help of a good friend who worked for K&N in the R&D department. Unfortunately, he no longer works for K&N, so my original hope of having K&N produce a kit specifically for the DeLorean no longer exists. (They have no interest in this, not enough sales volume.)
The kit offered here combines a K&N High-Flow air filter with a set of custom stainless steel adapter brackets designed to hold the K&N filter in the stock DeLorean filter housing. Installation instructions are included with the kit. No modifications are required to the DeLorean to install this filter kit and all parts of the original air intake assembly remain stock and operational.
Because this filter is a current stock K&N unit (Part #33-2002), this " K&N - Delorean Filter Kit" will be available in two versions:
Basic Kit: Includes the adapter brackets and installation instructions (you supply your own K&N filter from your favorite supplier). Cost is $12, which includes shipping within the US.
Complete Kit: Includes the Basic Kit above plus a new K&N filter unit**. (for those who don't have a "Favorite" supplier). Cost is $55, which includes shipping within the US.
**Suggested retail for the K&N filter is $48.95 plus tax.
The K&N "Recharger" kit used to clean and re-oil the filter is available from most auto parts suppliers for under $10.
Please contact Marty Maier - wingd2@aol.com- for information.
*Shipping to the continental US. Shipping to other locations will have an additional charge.
© 1999 - Mid-State DeLorean Club