Radio Wiring Plug Assembly

My supplier has run out of these harnesses and will not be getting any more.
There was a gentleman selling these on eBay, so you might want to do a search on there for delorean radio
I am leaving this page up since a few people have said they like the wiring info.
Thanks -Mark
This is a 12" wiring harness with a male plug at one end, and a female at the other. The plugs are an exact match for the one used on the original DeLorean radio. If you want to install a new radio without modifying the wiring harness in the car, just cut this harness in half and install the male plug (right side above) on the harness of your new radio.
Note: While the plug itself is a perfect match for the DeLorean, the color coding of the wires is different. It's very simple to just match them up for functionality and just ignore the color of the wires.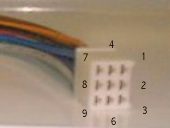 Using the numbering pattern above, this is the wiring color coding for the Craig radio in case you are interested:
| | | |
| --- | --- | --- |
| | Craig Radio | New Harness |
| | | |
| 1 | White | Black |
| 2 | Blue | Brown |
| 3 | Brown | Red |
| 4 | Gray | Orange |
| 5 | Purple | Yellow |
| 6 | Green | Green |
| 7 | Black | Blue |
| 8 | Orange | Purple |
| 9 | Red | Gray |
Just for the heck of it, right after I first put this page out on the Web, I took my photo sample wiring harness into the living room while I was talking to my wife. Using a small jeweler's screwdriver I was able to pop the wires out of the male plug and then reinsert them to match the color coding of the original radio in about 5 minutes. Only difference is the substitution of Yellow for White.
Here is the setup for the ASI radio used in the later model DeLoreans. This info is courtesy of DMCJoe: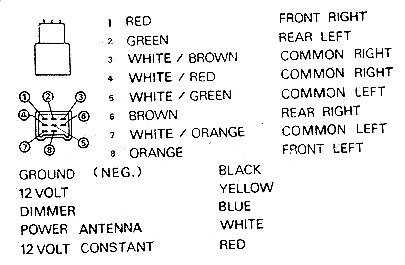 As you can see, it is very different from the Craig wiring. Only the speaker wiring goes through the 9-pin plug. Power is separate.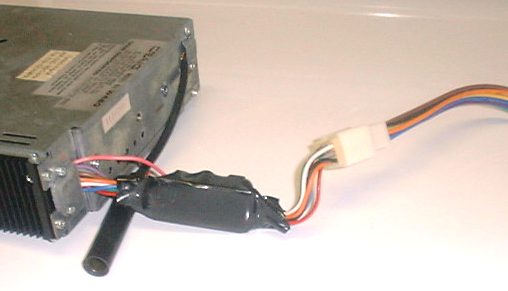 Here is a shot of the new harness plugged into my original radio. I'm using one of these in my car, and the plug is a perfect fit.
Ordering details:
Out of stock!
© 2000-2002 - Mid-State DeLorean Club