Stainless Steel Braided Brake Hoses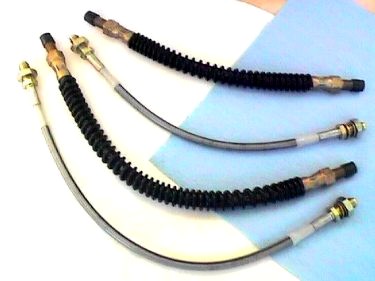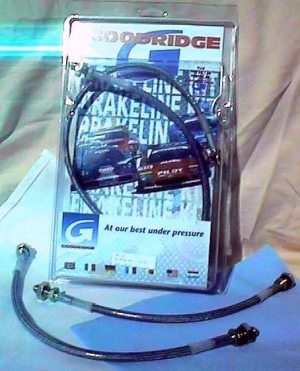 Custom Braided Stainless Steel Brake Hoses for the DeLorean. This braided SS hose kit was developed as an upgrade or replacement for the stock 18 year old rubber brake hoses currently on most DeLoreans. They have been tested over the past 5 years.
These hoses are made for us by a good friend who happens to be the senior engineer with the Goodridge Co in England. Goodridge is one of the largest OEM hose suppliers to the European auto industry. They are constructed using a Teflon inner core with SS exterior braiding to eliminate hose swelling under braking pressure. The exterior SS braiding is coated with a clear plastic covering for abrasion resistance. They incorporate the correct oddball metric end connections to match the original Girling brakes on the stock DeLorean. These hoses are a direct swap for the original rubber hoses on the car with no modifications required. They are USA-DOT and European-TUV approved for highway use. We have these custom made about once a year on a very limited basis.
They come in a set which is all 4 hoses (2 front and 2 rear) and include misc hardware. Cost per set is $135.00, which includes shipping*.
Please contact Marty Maier - wingd2@aol.com- for information.
*Shipping to the continental US. Shipping to other locations will have an additional charge.
© 1999 - Mid-State DeLorean Club